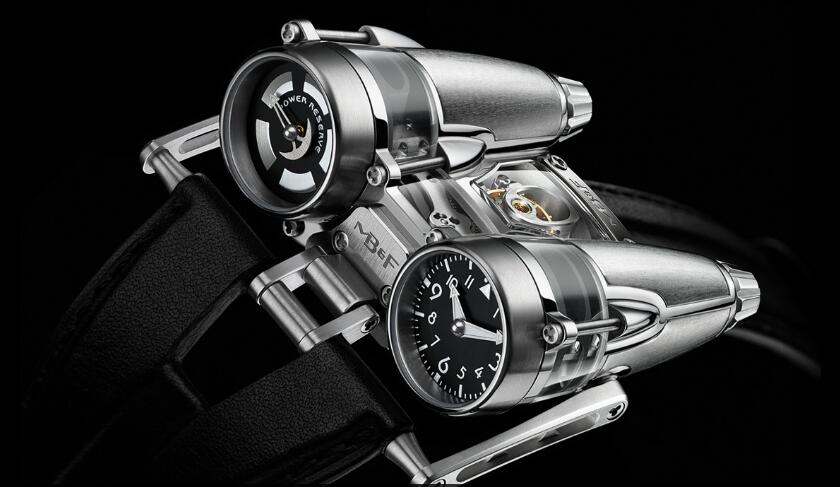 MB&F continues to launch the anniversary series, bringing new surprises. The original prototype of the N°4 watch machine was brought into broad daylight and modified in the HM4 "Kittyhawk". Please find all the details in the official press release below.
Two weeks ago, we celebrated the 10th anniversary of HM3 Frog by releasing the "FrogX" anniversary edition.
But Frog is not the only MB&F machine to debut in 2010. Ten years ago, we also shocked the watchmaking world with the HM4 Thunderbolt, one of the most radical machines we have created so far. In the same year, this aviation-inspired timepiece was awarded the "Best Concept and Design Watch" at the Geneva Haute Horlogerie Awards; recently, the New York Times listed HM4 as shaping modern watch design in an article published last year One of the 10 watches.
The HM4 case adopts any standard definition and is matched by an engine that competes with the structure of the traditional watch movement. Due to its complexity, it was limited to 100 pieces from the beginning, and each of these 100 movements entered one of the various versions of HM4-the last remaining piece was sold a few years ago.
To celebrate its 10th anniversary, we decided to transform the original HM4 prototype into PièceUnique: HM4 "Kittyhawk".
If you know something about aviation, the name Kittyhawk will be familiar. The Curtis P-40 was one of the most important WW2 Allied aircraft produced between 1938 and 1944. Depending on the model, it carries nicknames such as Warhawk, Tomahawk and Kittyhawk. It has been criticized for its average performance on paper, and its outstanding performance in combat is surprising. To this day, aviation experts are still arguing about the advantages and disadvantages of aircraft. In any case, it was still one of the most iconic aircraft at the time-especially the sample shocked the typical "shark mouth" and eyes. cheap men watch
Just like the "nose art" of those legendary WW2 aircraft, this PièceUnique has hand-painted shark mouths and eyes, as well as aging time and power reserve dials. Following the shape shown in the figure, the micron-level metal removed from the side of the fuselage was first carefully prepared to prepare a 10-year prototype titanium case to welcome the recessed painting. It was then handed over to the extremely talented miniature painter Isabelle Villa (Isabelle Villa), who meticulously painted sinister teeth and angry eyes. Finally, apply a layer of transparent varnish to protect the miniature painting and make it flush with the case.
MB&F Horological Machine No4 – the Series Technical Specifications
HM4 Thunderbolt
HM4 'Razzle Dazzle' & 'Double Trouble'
HM4 RT
HM4 Final Edition
HM4 'Kittyhawk'
Engine:
Three-dimensional horological engine developed 100% by MB&F
Manual winding with two mainspring barrels in parallel
Power reserve: 72 hours
Balance frequency: 21,600bph/3Hz
Number of components: 311
Number of jewels: 50
Functions:
Hours, minutes and power reserve indicator
Hours and minutes on right dial, power reserve indicator on left dial
Separate crowns for time setting and winding
Case:
HM4 Thunderbolt: grade 5 titanium and sapphire
HM4 'Razzle Dazzle' / 'Double Trouble': grade 5 titanium and sapphire, hand painted nose art
HM4 RT: 5N red gold, grade 5 titanium and sapphire
HM4 Final Edition: grade 5 titanium with black PVD and sapphire, angular dial shades
HM4 'Kittyhawk': grade 5 titanium and sapphire, hand-painted shark mouth and eyes
Dimensions: 54mm wide x 52mm long x 24mm high
Number of components: 65 (67 for HM4 Final Edition)
Articulation of lugs: 3°
Sapphire crystals:
Five sapphire crystals: 2 x dials, 1 x central case section, 2 x display panels (top and bottom)
Strap & Buckle:
Hand-stitched calfskin strap with titanium/white gold or red gold custom-designed folding buckle attached to articulated lugs.
Razzle Dazzle and Double Trouble: authentic vintage leather strap crafted from Swiss military bags with contrasting white hand stitching. Titanium/white gold custom designed deployment buckle.