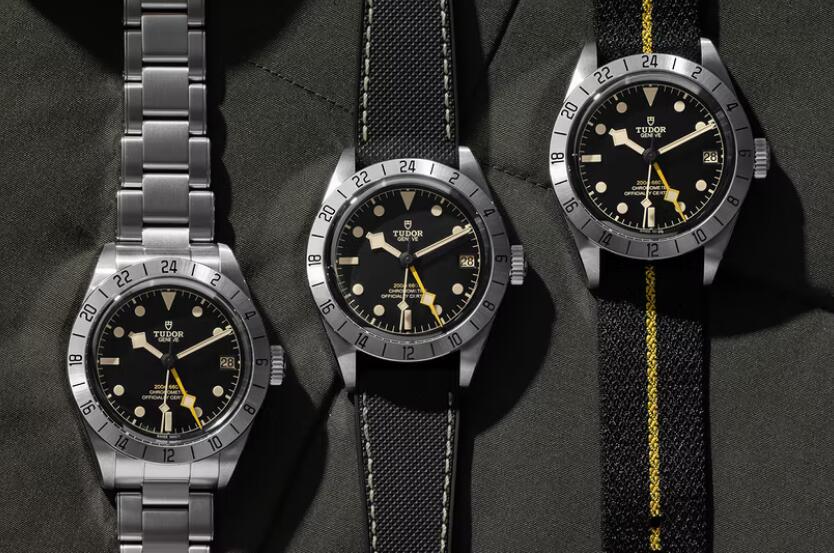 An excellent model of the watch collection with casual, sporty advantages…but no longer a real musical instrument.
About a month ago, Tudor launched a new version of its most hardcore diver's watch to date: the Pelagos. First released in 2012, this 42mm titanium watch is designed for action with its 500m WR and helium valve, ultra-focused design and use of lightweight, durable and functional materials. This was followed by an evolution in the manufacture of movements, then the rather trendy LHD model, and more recently the military model FXD. All very useful tool watches…but now that we have the Tudor Pelagos 39, now that the dust has settled, I want to take another look at the watch. I realize this watch isn't just a downsized model…even though it looks familiar, it actually serves a completely different purpose.
fact
Let's not worry too much about this part. We've been there and have done so. On paper at least, the Tudor Pelagos 39 is a scaled-down version of the classic Pelagos 42 with fewer tool benefits, or in other words, more of an urban lifestyle. First, the diameter has been reduced from 42mm to its current 39mm. The case, then, is still titanium (grade 2 in this case), still fully brushed, still very well-made, and still has a familiar design that is immediately reminiscent of classic Rolex codes. water proof? 200 meters. high? A very nice 11.8mm, about the same as the Black Bay 58 (and I rarely hear anyone complaining about this watch). Ear to ear? 47mm, smaller than BB58. The bottom cover is steel, screwed in, and plain and simple. The crown is screwed down and inserted between the side guards.
The novelty of this model is the texture. The bezel is, of course, unidirectional, with radially brushed ceramic inserts, and a 60-minute scale with luminous partial graduations. The dial also has its own texture. It is black but sun-brushed and not matte. The entire dial is streamlined; the inner flange is simple in design (without partially framing the markings like on the 42mm model), and the hands are white, luminous, and typically snowflake-shaped. The markers are also white, have a 3D shape, and are made from a monolithic ceramic composite. The date has been removed, leaving only the time to display. The cherry-red Pelagos mention is the only pop color that breaks the monotony.
The movement inside the case is roughly the same as the BB58 movement, the MT5400 movement. Made by Kenissi, it has the same attributes as most Tudor watches: 70 hours power reserve, chronometer certification (varies -2 and +4 seconds per day according to Tudor requirements), 4Hz frequency, variable inertia balance and antimagnetic silicon hairspring, Lateral bridges are more stable. A movement designed to be precise, practical and reliable.
Finally, the Tudor Pelagos 39 comes with a 3-link grade 2 titanium bracelet, again fully brushed. It is closed by a pleasing clasp that includes a dive extension and the brand's quick-adjust comfort release (T-Fit system), which enables an 8mm adjustment window in 5 positions without tools. Also included is a black rubber strap with its own titanium pin buckle, as well as a 110mm rubber extension cord for wearing the watch over a wetsuit.
Where is the TUDOR PELAGOS 39 positioned?
This was a bit of a problem for me when the watch was first released. The Pelagos collection is a niche collection so far, and I can easily define it as Tudor's answer to the Sea-Dweller – a better watch than a Rolex if I have to be honest because it does have all the attributes Appropriate tools for use and abuse. The original Pelagos remains one of the most impressive diving watches on the market, without a hint of luxury or any concession to elegance. It looks and feels like a diver's piece of gear and has basically everything you need. Because of this, it's a niche model. Of course, it can be worn on land on an ordinary day. But it's hard for me to imagine that the Pelagos 42 is the only watch you own. A little too extreme, I guess.
Tudor Pelagos 39 has a very different approach. In fact, it's not just the specs that change the game, it's mostly the look and feel of the watch. When I first introduced the watch, I said it felt like it was sitting in a small window, a "compact diver's watch with traditional features and a sturdier, more modern look than the BB58." A few weeks later , I think I need to change my words a little bit.
In fact, I think the Pelagos 39 is a different product, one that is no longer positioned in the market as a pure diver's watch. It's much more mainstream than I initially thought. With its "not so hardcore" specs, compact (but not too small) size, textured dial and bezel that brings some refinement, and a classic, timeless design and reassuring code, I think Tudor Created a different style of everyday beaters.
We often talk about "single watch series" models that can be easily identified as the steel Rolex Datejust 41 or the Omega Seamaster Aqua Terra. This all-rounder watch is perfect for business meetings and an evening out, but still durable enough for a weekend at the beach. With the Pelagos 39, Tudor brings a more modern, younger, and more versatile single-watch line model, the everyday beater of millennials, an everyday watch with a fairly manageable edge of movement. This watch is for those who don't need a jacket and shirt at the office but bike to work, wear jeans and sneakers to meetings, but still want to use the same watch for weekend surfing or jumping in the pool.
Obviously, the Tudor Pelagos 39 will be a very good, well-performing dive watch. Without a doubt, it is suitable for 99% of recreational diving situations. But for me, that's not the goal of this watch. It's a response to a changing mindset, a new way of life, a new fashion norm, or a rapidly evolving mindset in a professional environment. In fact, I even think the Pelagos is pretty smart as a product for non-hardcore watch lovers. It is softer than the Pelagos 42 without losing its diving properties, it is classic and refined enough to maintain its beauty over the years, it is discreet so it does not attract too much bad attention, its case has no gender advantage regarding size …I mean, it's really a very 2022 product. at the same time,
What do I like about it? What do I not like?
Objectively, looking at the facts and overall execution of the Tudor Pelagos 39, there's really nothing to complain about. The whole package is of very good quality, the surrounding details are good, the movement is precise and perfect, and the specs are more than enough for the vast majority of users (if that wasn't enough, the 42mm will fix that).
Subjectively, there are a few things to say. First, its size. Yes, for most wrists – covering the range of most average sizes, excluding extreme sizes (below 15cm or above 19cm) – this smaller Pelagos will be close to the perfect sports watch. 39mm diameter (actually, close to 40mm at the bezel) and relatively thin case, combined with the relatively compact L2L – yes, again, it's even better than the BB58, about 1mm less , 3 mm less than BB58. Pelagos 500m – making it a very versatile watch. The fact that you have both a titanium bracelet and a rubber strap adds to that feeling. The understated musical instrument look once again makes this watch more practical for everyday use, thanks to some lightweight textures on the dial and bezel. fake watches for sale
Speaking of which, I definitely prefer the look and feel of this Pelagos 39 over its big brother. Specifically, the bezel and its radial brushed texture. I've never liked the full matte bezel on the larger version. All in all, it makes this watch even more visually interesting…
But being funnier doesn't mean being really sexy. I know it's all a matter of preference, but the Pelagos 39 isn't what you could call a hot watch, a talking piece, or a striking model. It might not be its profession, but honestly, it's not reinventing the wheel. This is a classic, streamlined, pure-looking diver's watch. Not much actually happened, and the whole thing lacked a little glamour in my eyes…just a little quirky. A small flaw. You know, the "beauty mark" above Cindy Crawford's upper lip (yes, it's a mole…). Something to taste. In this regard, the BB58 with its retro appeal and warm colors (especially the black dial version) does a better job of being attractive…
The downside to the Pelagos 39 is that it's very good, well made, and actually a bit cold. The good thing is that the watch doesn't go out of style any time soon. For those who want to wear it every day, this is not a small aspect to consider in the long run.
The last thing that bothers me about the Pelagos 39 is that if Tudor had a great idea to include both a bracelet and a rubber strap, there's no quick-change system. I've been pointing this question at brands, and their responses, if there's a reason, don't quite satisfy me. This is all thanks to the resistance of such systems over the years, and Tudor has yet to find a quick-change mechanism that is sufficiently resistant. Well, at least there is room for improvement.
But yes, overall, the Tudor Pelagos 39 is a pretty impressive watch. Not the most dramatic, but one of the most coherent. It also feels reasonable and very competitive compared to possible alternatives. Availability isn't as easy as we'd like, but it's not impossible to find one either. http://www.chronowrist.ru
Technical Specifications – TUDOR PELAGOS 39
Case: Diameter 39mm x Height 11.8mm – Lug to Lug 47mm – Grade 2 Titanium Case, Satin Finish – Grade 2 Titanium Unidirectional Rotating Bezel, Insert Sunray Satin Ceramic and Luminous Materials – Screw Down Crown – Sapphire Crystal – Solid Steel Case Back – 200m Water Resistant
Dial: Black sunburst satin finish, sandblasted flanges – Snowflake hands, X1 grade Swiss Super-LumiNova luminous coating – Luminous ceramic composite applied hour markers
Movement: In-house movement MT5400 – COSC certified – Automatic bi-directional oscillating weight – 30.3 mm x 5 mm – 27 jewels – 70 hours power reserve – 28,800 vibrations/hour – variable inertia balance, fine adjustment screws – non-magnetic silicon hairspring – hours, minutes, seconds, no date
Bracelet: Titanium triple link bracelet with Tudor "T-fit" folding clasp, safety clasp and diver's extension – black rubber strap with pin buckle and diver's extension included in the box
Reference: 25407N