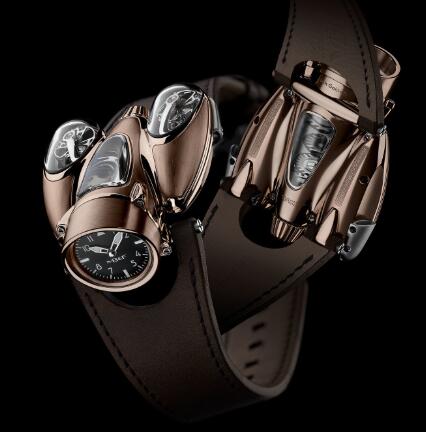 After three years of development, HM9's engine is completely developed in-house, and experience has been accumulated in the existing 13 years (until 2018) and the previous 14 movements.
Collectors and loyal fans of MB&F will recognize the mechanical pedigree of the HM9 engine. Although shown in a very different form, the dual balance wheel with differential is comparable to the Legacy Machine N°2 system. LM2 demonstrates the authenticity of the design and the amazing effect of the suspended oscillator, while HM9 celebrates its expressive design.
The two balances of the HM9 engine are the two sources of timing data for the central differential, which provides an average display. The pendulums are independently driven and separated in space, so each pendulum oscillates at its own frequency of 2.5 Hz (18,000 A/h). This is an important factor in obtaining an important average, just as a statistically reliable mathematical average should be derived from a separate source of information.replica watches swiss
Two pendulums in the same motion inevitably cause the problem of resonance. Resonance is a mechanical phenomenon that maintains mutual harmonic excitation between two coupled oscillators. Like the LM2 engine, the HM9 engine explicitly avoids resonance effects. It integrates two balances to obtain separate timing data, which can be transmitted to the differential to produce a stable average display. Two balances oscillate perfectly and provide equivalent timing data at all points, which will not achieve this goal.
HM9 is again reminiscent of MB&F's Legacy Machine series, with a curved arm above the pendulum. The polished appearance of their surface contrasts sharply with the other bridges of the movement.
Technical index
HM9 Flow-Technical Specifications
Horological Machine N°9'Flow' is available in two versions:
-Road version with dial speedometer;
-"Air" version with an aviation dial.
engine
Manual winding designed and developed in-house by MB&F
Two completely independent balances with planetary differentials
Pendulum frequency: 2.5Hz (18,000bph)
Single barrel with 45 hours power reserve
301 parts, 52 jewels
Display hours and minutes vertically
Housing
Limited edition of 33 pieces each, grade 5 titanium case with NAC ("Air" version) or rose gold ("Road" version) movement, limited edition of 18 pieces, with NAC movement and rhodium-gold 5N + rose gold case. Gold-plated balance ("Air" version) or rhodium-plated movement and 4N rose gold balance ("Road" version)
Dimensions: 57mm x 47mm x 47mm x 23mm
Release: 43 components, rose gold: 49 components
Waterproof: up to 3 ATM (30m); assembled in three parts, and patented three-dimensional sealing.
Sapphire crystal
Five sapphire crystals are treated with anti-reflective coating
Bracelet and buckle
Brown hand-stitched calfskin strap with folding clasp in titanium or 5N + rose gold.